Shankar's 2.0 starring Superstar Rajni has been the talk of the K-town! While few fans have started calling the film 2.WOW; few are busy coming up with crazy meme ideas which have been storming the internet. The film has indeed "set the screens on fire" and few popular names like Shankar, Rajni, Akshay Kumar, Amy Jackson and ARR who are important associates of the film are being discussed widely by people alike. However, we learnt that there were about 3000 names in the credit list from a close source to the film. All these technicians/workers are unsung heroes and their contribution is a vital one to derive a product like 2.0. Considering the scale of the film, it is close to impossible to run a one-man-show! The passion for the art of filmmaking and the thirst to keep learning new things are the main reasons that could have kept so many people running.
We spoke to Sharath, Nilesh and Prashanth who have associated themselves as director Shankar's assistants in the movie and they disclosed many inside stories behind this magnum opus that the industry just witnessed.
Explaining to us the direction team's organisational chart, Nilesh recollects how the ADs had to make sure that every one of them took ownership for the film and its outcome.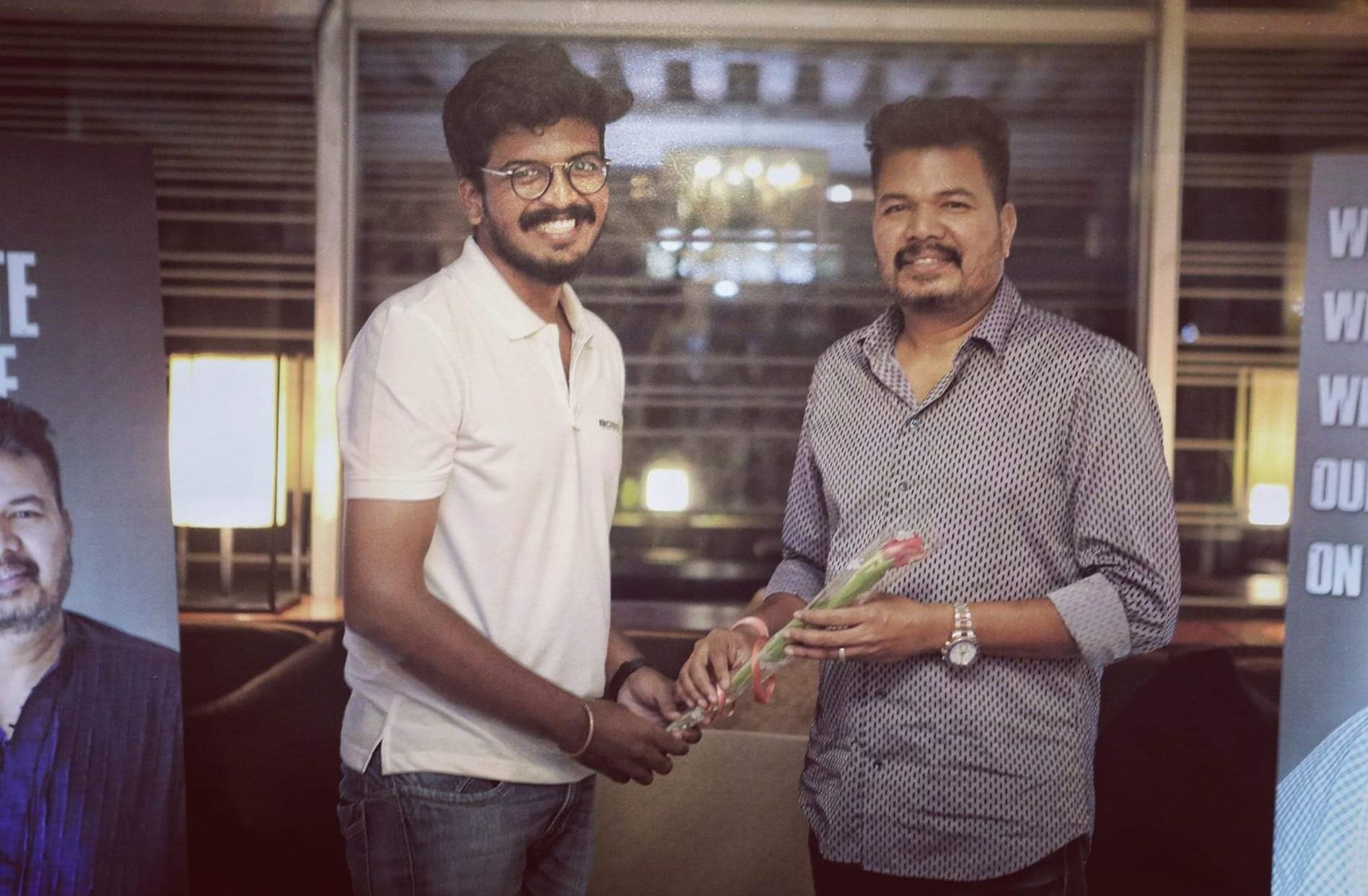 Assistant director Nilesh with director Shankar
Talking about other responsibilities Nilesh spoke about one very interesting task he had in one particular schedule which involved Animatronics. In Akshay Kumar's flashback sequence where they depict how he gets attached to birds as an infant was shot using this method. Animatronics in simple term is a process of creating movements on a man made figure using motors and cables. "The just born child who comes to life by the peck of a bird created using Animatronics. I was handling one of the cables of the infant and we had to be very precise with our movements to arrive at an authentic sequence. Something as small as that sequence took us a very long time. We followed the same technique in the scene where a bird dies on Akshay Kumar's or Pakshi Rajan's palm. When compared to Enthiran, 2.0 has lesser animatronics sequences but that was one of the very fascinating learnings of this process for me."
While speaking about taking a lot of time for simple things, we also had one of the crew members tell us how the shot where the dog outside the mobile showroom owner's house barks looking at the sea of mobile phones approaching took around 104 takes. The best part about this incident is, the 4th take was the one which was finally picked as 'OK" take.
Apparently, director Shankar started the scripting process for 2.0 during the shoot days of I itself. Sharath has been the only AD who has had the opportunity to work with Shankar on 2.0's script. Sharath's association with Shankar is a 7 year long one and talking about this, he enthusiastically recollects when the spark for the concept of 2.0 came about.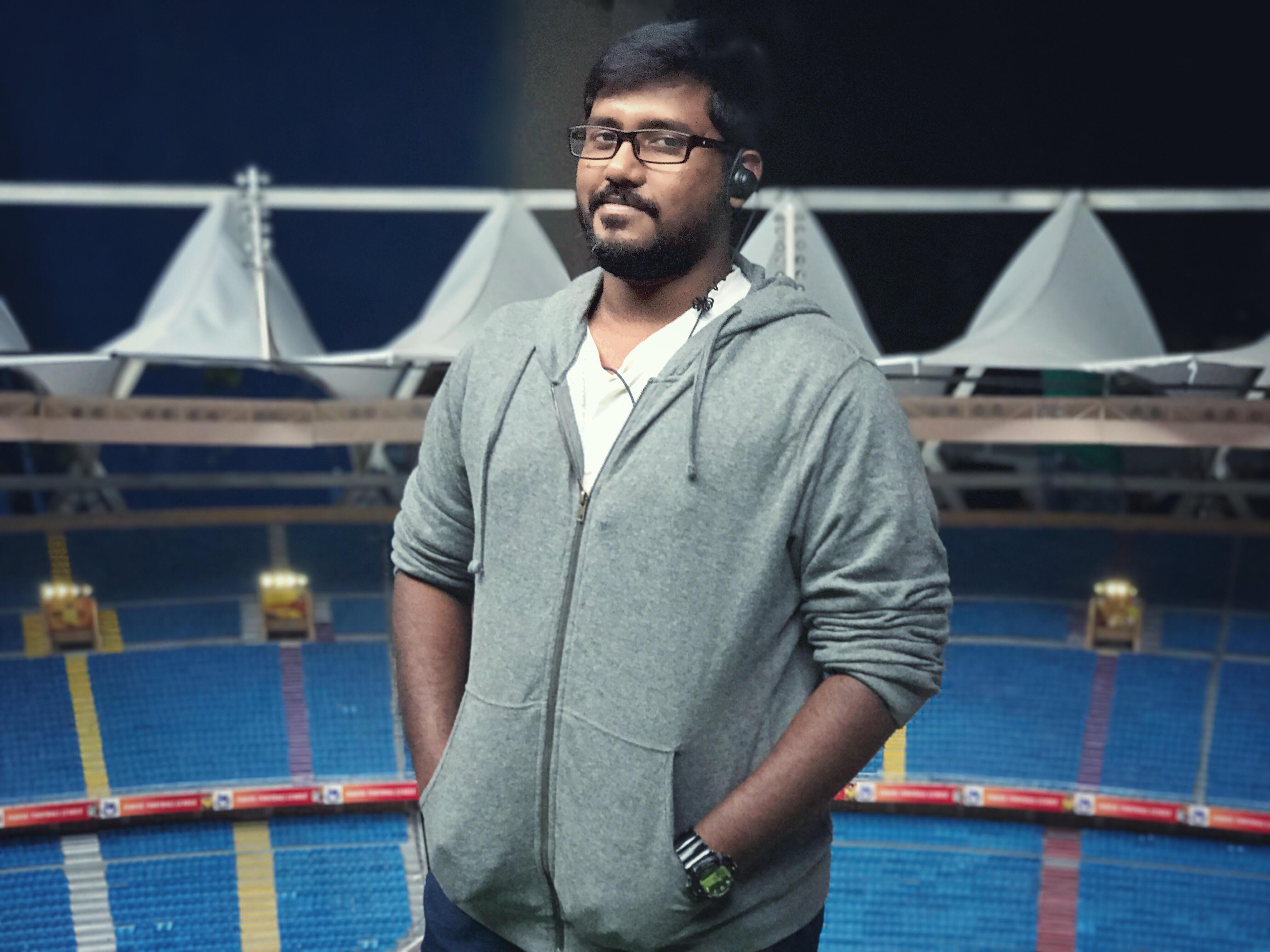 Sharath
Elaborating more about the writing process, Sharath says "We did not want to alienate this movie by making it too high end and complicating the narrative. We were stubborn about the packaging of the content for the masses and we wanted to cater to all the sections of the audience. In case of a sci-fi, this was the ultimate challenge. We made sure we struck a balance between complexity and simplicity."
Sharath gives a peek into the kind of research that he did during the writing process.
2.0 had VFX which was not a process that took place after the shoot but all the sequences were pre-visualised in a simple animation format. 10 animators worked during the pre-production phase and they delivered 35 shots every single day for closed to 4 months to form the pre-visualised footage. The process where the pre-visualised footage was synced with the visuals that were shot to do the post computer work was apparently a very challenging task.
Giving us information about the delay in the release of the film Sharath speaks about how he went to the US for 25 days to sort out the delay due to a particular studio who was working on the post effects. They were not meeting the deadlines as they had less manpower but as days went it started affecting the project in all the aspects so I went there and sorted and regularised this process by shifting to another studio. This transition was difficult as we couldn't afford to lose even a small shot.
Prashanth, who has never worked as an AD before claims that this experience of his as a love-hate relationship.
As mentioned earlier, Shankar starts his scripting for the next project when his current project is about 60 to 70 percentage complete. "I had the opportunity of working with sir for Indian 2's scripting. In 2.0 I learnt all the technical aspects and Indian 2 taught me the writing aspect of filmmaking. Now I would consider this a wholesome process!" adds Nilesh who is now set to write a script for a film that he will debut as a director.
All the three ADs in unison say that Shankar sir always encouraged his assistants to move ahead if an opportunity knocked at their door. Now that all the three have come out of Shankar's team to write for their own films, director Shankar has lovingly threatened them to come and narrate their script to him without fail. "Sir on a lighter note assured he wouldn't steal our storylines" says Nilesh.
They also mention that the only mantra he gives out to is "Believe in your content and stay original."
As Indian 2 is about to take off, another set of aspiring minds will go through a similar honing session and we look forward to what Sharath, Niklesh and Prashanth have got in store for us.